Grand opening Eiermacher hatchery
The third extension of Eiermacher hatchery Austria in 7 years is a fact. On October 1st we have attended the grand opening of the Eiermacher hatchery in Austria.
The innovative mindset of Eiermacher in combination with the most uniform incubator design available led to a well-established market position. Both Eiermacher & HatchTech are very proud of this achievement in the Austrian poultry industry.
The hatchery, which will be located in the Kremsmünster region, will be fully equipped with top-of-the-range incubation technology provided by HatchTech, including 12 MicroClimer Setters (S84.480), eight MicroClimer Hatchers (H42.240), and one HatchTech Chick Storage Room, as well as ventilation and air-handling equipment.  HatchTech will also supply cabling and ducting for the hatchery, together with various supporting technical equipment.
This equipment contains the laminar airflow technology, which ensures that a constant airflow and the optimal temperature are provided to each egg and embryo which results into stronger and healthier chicks, hatched under perfect conditions.
Michiel van Veldhuisen, International Sales Manager at HatchTech says "We are looking forward to continue our successful partnership with Eiermacher, to support the company with its business growth and to deliver superior quality chicks.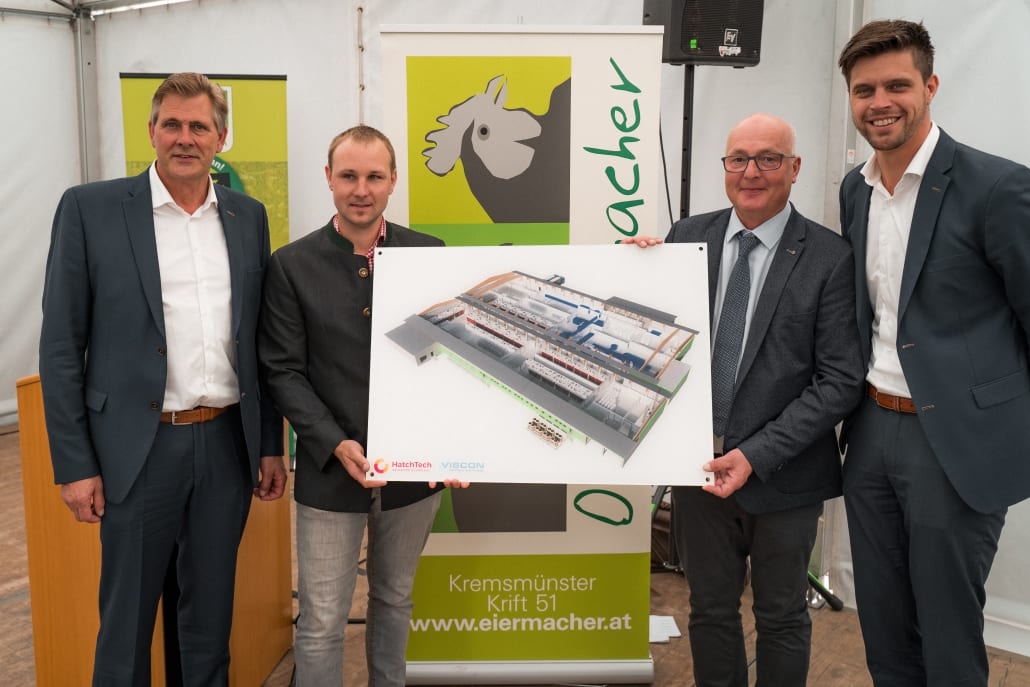 Picture: Left to Right:
Simon Kleinjan Area sales manager Viscon, Bernhard Stockhammer Hatchery manager Eiermacher, Manfred Söllradl General Manager Eiermacher, Michiel van Veldhuisen Area Sales manager HatchTech.